About Chandra Thomas Whitfield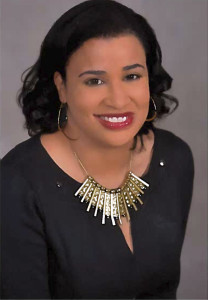 Chandra Thomas Whitfield has been a journalist and writer since 11th grade. Her mother and English teacher – the great Mattie Murray – noticed her exceptional writing abilities as a teen and literally conspired to force her to join her high school's newspaper staff. Being the quintessential rebellious teen Chandra initially resisted, but ultimately their plan worked. Chandra signed up for The Panther Tales newspaper staff. Her newspaper advisor – the delightful Mary Blake – later recommended her for a summer journalism workshop at Clark Atlanta University, which would later become her alma mater. Lured by the promise of getting paid to write, talk to strangers and ask "all of the juicy questions," she eventually decided that being a professional writer was her life's calling. From there, her love for writing was forever affirmed. She worked herself up to editor-in-chief of her high school newspaper and she has remained committed to her craft ever since.
The proud New Orleans native (by way of Atlanta) took that same passion to Clark Atlanta where she joined The Panther newspaper staff within two weeks of starting her journalism/mass communications program. By her second semester she became the first freshman section editor in the publication's history. Now an award-winning multimedia journalist, her work has appeared in People, Essence, Ebony and Jet magazines, along with on NBCNews.com, Time.com, TheGrio.com, TheRoot.com and on The Huffington Post's website. In 2014, the Atlanta Press Club named an award-winning feature story she penned for Atlanta Magazine one of "Atlanta's Top 10 Favorite Stories of the Past 50 Years."
In 2013 the Atlanta chapter of the New Leaders Council presented her with its "40 Under 40" Media Leadership award and she also won the highly respected Atlanta Press Club "Award of Excellence" for an education-themed radio report she completed for WABE, Atlanta's National Public Radio (NPR) affiliate. In August of the same year, the New Orleans native was also named winner of the Colorado Association of Black Journalists "Scribes In Excellence Award" in the News Feature Category for a story she wrote for The (Denver) Urban Spectrum newspaper, about African-American veterans suffering from PTSD. The 2011 Soros Justice Media Fellow and former Juvenile Justice Information Exchange (JJIE.org) reporter also received a 2011 Atlanta Press Club Award for a Hurricane Katrina fifth anniversary multimedia series. She produced the series as part of the Kiplinger Public Affairs Journalism Fellowship at The Ohio State University.
While a staff writer and blogger for Atlanta Magazine in 2007, she was named Journalist of the Year by Region III of the National Association of Black Journalists and Print Journalist of the Year by the Atlanta Press Club. The awards honored a body of work that she produced in 2006, including the first in-depth account of the controversial Genarlow Wilson teen sex case. The feature story is widely considered to have contributed to a change in Georgia law and Wilson's early release from prison. In 2009 she won a Mental Health America feature-writing award for a suicide-themed feature story that she completed as part of the Rosalynn Carter Mental Health Journalism Fellowship program. Her freelance work has appeared in a diverse mix of publications, including The Atlanta Journal-Constitution, Diverse Issues In Higher Education, The American Prospect, The (Denver) Urban Spectrum and Heart & Soul. Thomas Whitfield completed a 2013-2014 Ted Scripps Environmental Journalism Fellowship at the University of Colorado at Boulder and she is also a former contributor to NPR's former "News & Notes" program. In her ever-fleeting free time, she enjoys traveling, mentoring aspiring young journalists and quality time with her family.